Functional Neurological Disorder Seminar
December 10, 2020 @ 6:00 pm

-

8:00 pm
This seminar will focus on the diagnosis, formulation and treatment of Functional Neurological Disorders in the primary care setting.
About this Event
The Functional Neurological Disorders seminar, presented by Dr Brad Hayhow and Dr Lakshmi Fernandes, will provide a conceptual overview of somatic symptom disorders with the emphasis being given to the diagnosis, formulation and treatment of functional neurological disorders and chronic pain disorders in the primary care setting. Illustrative case studies will be presented by both speakers with the opportunity for interaction throughout, and a formal question-and-answer session towards the end of the evening.
Learning Outcomes:
Understand the conceptual framework within which somatic symptom disorders are diagnosed, with an emphasis on functional neurological disorders and chronic pain.
Understand the role of medical and psychiatric comorbidity in these conditions and the utility of biopsychosocial formulation in management planning.
Describe evidence-based management strategies and resources available to practitioners in general practice
Expert Speakers:
A/Prof Brad Hayhow is a consultant neuropsychiatrist in both clinical and academic practice. He holds postgraduate qualifications in consultation-liaison psychiatry and affective neuroscience and completed his fellowship in neuropsychiatry at the Melbourne Brain Centre. One of his core areas of practice is in functional neurological disorders (FND) in addition to which he maintains active interests in neurodevelopmental disorders, neurodegenerative disorders, epilepsy and brain injury.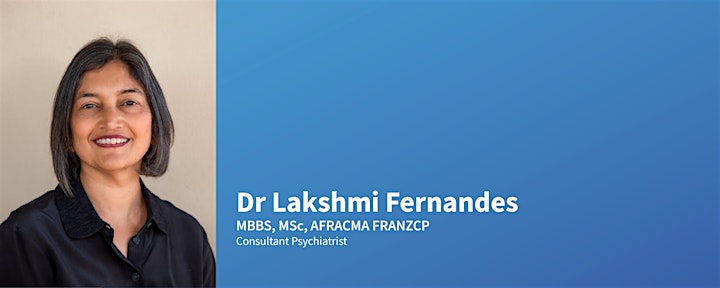 Dr Fernandes specialises in working with people who have difficulty adjusting to severe physical illness, and co-existing physical and mental health issues. She completed her specialist training in Consultation-Liaison Psychiatry in the UK and worked as a consultant psychiatrist for 11 years. During this time, Dr Fernandes was the head of the Sheffield eating disorders service and worked as the lead psychiatrist in the chronic pain clinic. Dr Fernandes has several publications focusing on the treatment of severe irritable bowel syndrome. She also has experience providing psychiatric input to Diabetes, Endocrinology and Respiratory Medicine clinics.
Currently, at Fiona Stanely Hospital in the Consultation-Liaison service, Dr Fernandes works with the chronic pain team. She is an accredited supervisor for post-graduate training in Psychiatry. Her special interests include chronic pain, functional pain syndromes, depression and anxiety in chronic illness. She is an advocate of integrated health care and using a multidisciplinary team to achieve optimal care for her patients.
Cost:
Free (Light refreshments will be provided).